Environmental Assessment Procedures
With the Environmental Assessment Code (EAC –> please click here for download) adopted 1 June 2017 the old environmental impact permit system was abolished. Instead of a permit, an environmental decision will be issued based on an Environmental Impact Assessment (EIA)  and the mandatory procedure beforehand. This procedure consists of three main steps:
Scoping: to determine the list of information to be obtained and studied for an ESIA which are concluded in a Scoping Report;
Environmental Impact Assessment of the project resulting in EIA report;
Review of assessment results, upon which the justified conclusion and Environmental Decision is issued
Graphic representation of the Environmental Assessment Procedures (click on image to enlarge):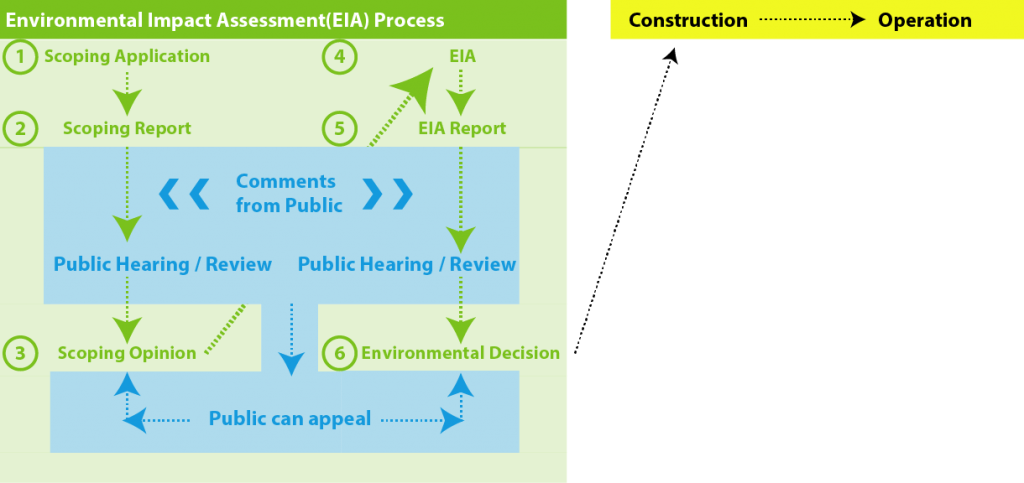 Status of the EIA process at present
The Scoping Report (plus an additional shorter Scoping Presentation) has been finalised.  Beginning of June the scoping report will be officially submitted to the Ministry of Environmental Protection and Agriculture (MEPA) and the official Scoping procedure begins.  (EIA reports can then be downloaded from  this page of the Ministry of Environmental  Protection and Agriculture).
–> Please find further details on the scoping report and public hearing on this page of our website
What is Scoping?
According to the Environmental  Assessment Code (EAC) for Georgia, Scoping is the first of several steps that needs to be done in order to receive a construction permit for the construction of a new landfill. The first step of the scoping process is, to draft a scoping report. In the scoping report, the following subjects are covered:
Define the environmental and social legal framework and standards that the project should comply with
Identify project alternatives to be evaluated in the EIA
Establish environmental and social baseline conditions at the project's site and gaps in information that need to be fulfilled during the EIA
Identify early in the design process whether there are any major environmental and social issues at the proposed site that could become obstacles to the project's implementation
Ensure an early identification of possible impacts and mitigation measures to be considered in the project design to avoid, reduce or compensate for negative impacts and enhance positive impacts
Establish methodologies for impact assessment and the scope of work for the EIA
A very important scope of the scoping report is, to provide an early opportunity for public discussion and engagement with stakeholders and consider their opinion in the project.